Getting your resume to the top of the heap by JANE M. VON BERGEN, The Philadelphia Inquirer, spells out this imperative for job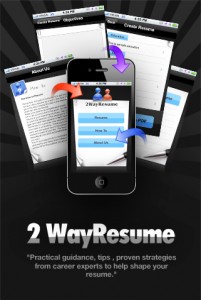 seekers:  if you want your resume to make the cut, you have to learn the secrets to speaking to and getting your resume past the computers before arriving on the desk of the person who may decide to pass you on to the next step.
"Computers have a very specific way that they look at resumes"…
"With the recession and its lingering aftermath, the number of resumes generated for any job opening is so overwhelming that human-resource staffs can't handle them all. The U.S. Labor Department reported that in February there were 3.5 million job openings and 12.8 million people unemployed.
No wonder recruiters turn to software created by companies such as Kenexa Inc., in Wayne, Pa., a leader in the field.
"The volume is just too high," said Jeffrey Weidner, director of sourcing science at Kenexa, whose website describes a case study in which one wireless-communications company received five million resumes, leading to 50 hires.
In 2011, companies worldwide spent $3 billion on talent-management systems that scan and sort resumes, schedule interviews, track follow-ups, and incorporate social media, according to Bersin & Associates L.L.C., a California consulting group that tracks the industry…..
Most counselors advise that the best way to get a job is networking, making connections through people you know. But there will remain some portion of the hunt that relies on online applications.
Given the new reality, applicants need to learn how to communicate with nonhuman recruiters. Keyword matching forms the basis of that communication, just as it does in web searches."
Bottom line: If you're sending in a resume, you need help.  you need a resume that speaks to computers as well as to human HR people.  You need to know how to optimize your keywords and leverage your social network to capture the attention of employers and get you a job.  Fortunately,  with you, the job seeker, in mind and your future employment and job security at stake,
AdvancingWomen
has developed an app which will help you break through, bypass the gatekeepers, showcase your true talents, and help land the job you're seeking.  Go to
2WayResume on iTunes
for more details.