by Bridget McCrea

DUBLIN, Calif. - For Karen Alvarez, getting into business for herself wasn't a luxury, it was a necessity. The fact that her business - The Baby Comfort Company, LLC - has been so successful is secondary to the satisfaction she derives from helping parents keep their infants and toddlers safe, healthy and germ-free. "I cringed every time my infant son would lean forward and put his mouth on the shopping cart handle," she says. "To solve the problem, I created The Baby Comfort Strap."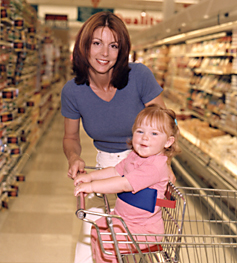 Photo by John Klycinski

Karen Alvarez's Baby Comfort Strap is helping to reduce the high number of grocery cart-related accidents, and has been featured in The Washington Post, The San Francisco Examiner and on ABC's 20/20.
But a germy shopping cart handle wasn't the only dilemma that Alvarez's product solved. "The first time I did not have it [the Baby Comfort Strap] with me while grocery shopping, my 18-month-old reached for an apple as I was reaching for the bananas," she explains. "He fell out of the cart, then it fell on him. I thank God he was not seriously injured." And this was far from being an isolated incident, in fact, Alvarez found out the hard way that over 20,000 children each year are injured from shopping cart accidents to the point of going to an emergency room and 74 percent of those injuries are to the head and neck.
While working in a grocery store and witnessing children teething on the handle of the carts, and falling out of them, Alvarez's creative juices began to flow. She launched her business in 1997, and says she relies on colleagues and mentors from various business and entrepreneurial groups for support and idea-sharing. To give back to the parents who support her business, she speaks often at children's and parenting groups in her area.
Currently, The Baby Comfort Strap is available at select Cartan's baby stores, The Right Start (a children's specialty shop), and via the Internet and mail order. The product retails at around $8 to $11, and sells for $9.99 (plus shipping and handling) when ordered directly. The company has been featured in such media outlets as The Washington Post, The San Francisco Examiner and television station WSBN out of Miami.
"My goal is to make a difference in other parent's
lives regarding the comfort and safety
of their children."
Karen Alvarez, The Baby Comfort Company, LLC
Alvarez's present business focus is on marketing, and possible licensing, her product and two other prototypes for new products. Ideally, she says she'd like to team up with an existing company and offer her innovative ideas to them to manufacture and sell. Her current manufacturer - who produces The Baby Comfort Strap - is a multi-million dollar company. "The buckles for this product are very expensive, which is why many of them are missing from the shopping cart seat belts," explains Alvarez. "Luckily, my manufacturer already held the patent on the buckle, and is able to pass the savings on to me."
"The Baby Comfort Strap is wonderful, particularly in shopping carts and strollers," says Michelle Hayes of Claremont, CA., a mother of two who used the product with both of her children. "Compared to the seatbelts available on the grocery carts, The Baby Comfort Strap is thicker, very reinforced, and lets the children know that it's there - but not too much to make it uncomfortable for them. I attract attention whenever I use it and moms come up to me all the time and ask me where they can get one for themselves."
"This product is an inexpensive solution to a common, everyday problem," says Alvarez. "My goal is to make a difference in other parent's lives regarding the comfort and safety of their children - all without costing them an arm and a leg in the process."
For Additional Information or Interviews Contact:
Contact: Karen Alvarez
Title: President
Company: The Baby Comfort Company, LLC Address: PO Box 2514 Dublin, CA 94568
Phone: (925) 833-8287
Fax: (603)-687-4949
E-mail: Kalvarez@babycomfort.com
Web site: www.babycomfort.com